Payment
Creating a Tiered Membership System: How to Offer Different Levels of Benefits to Members
Learn how to create a tiered membership system for your organisation to increase conversion, engagement and retention of members. Ideas for benefit levels.
---
Membership organisations have been popular for quite some time now, with some gaining more popularity with the development of the digital era. They are typically formed by groups of people who come together for a common purpose, interest, or goal. Ranging from local groups with a few people to international organisations with thousands of members, there are different types of membership organisations, for example, professional organisations, trade associations, social clubs, fraternities and sororities or hobby groups. Normally, the members agree on a set of rules and guidelines that all fellow partners agree on.
More often than not, the process of joining a membership organisation involves filling out an application, paying a membership fee, in some cases meeting certain criteria established by the organisation. Once a member, you get access to exclusive benefits and services that are not available to non-members, for example, discounts, special events, or exclusive content.
Creating a tiered membership system can be a great way to offer different levels of benefits to members, and can help to attract new members, and increase engagement and retention within your organisation. In this blog post, we explore some key strategies for creating a successful tiered membership system.
1. Define different levels of membership and benefits included at each level
When creating a tiered membership, one of the first steps is to clearly define the different levels of membership and the benefits that come with each level. Apart from providing clear information and helping potential members easily understand the options available, you also get a great opportunity to promote all the perks and benefits included in your membership.
For example, basic membership benefits may include access to certain resources or events, while premium membership might include additional perks such as exclusive access to certain content or discount on products and services. For instance, golf resorts tend to offer members discounts on spa treatments in the resort or food and beverages in the restaurant.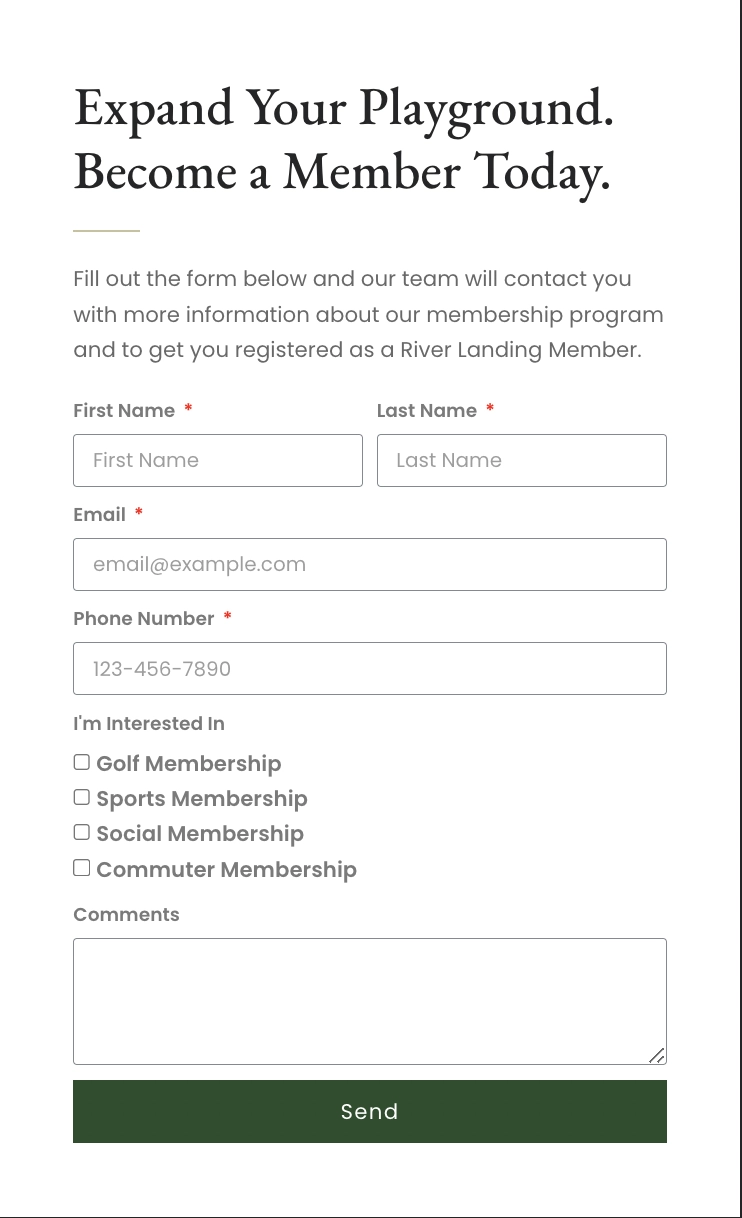 Additionally, consider offering a sense of belonging, recognition, or status as part of the benefits package. This will help to create a sense of community among members and foster member engagement.
Another important aspect is to think well about naming the different packages. Here are some examples:
Basic, Basic Plus and Premium
Basic, Standard, Premium
Bronze, Silver, and Gold
Rookie, Pro, Expert
Free, Premium, All-Access
However, you don't have to stick to the traditional names for your tiered membership system. Let your creativity take over and think of something fun that represents your organisation or members. Take a look at the above image to see a fun example from the golf corse.
Are you looking for a solution that would allow you to sign up new members online? With our online platform, you can display different types of memberships available in your tiered membership system, so that users choose which membership level they want and proceed to an online checkout where they can choose Digital Autogiro as their payment method!
2. Identify the target audience and demographics for each membership level
Next, it's important to identify each membership level's target audience and demographics and tailor the benefits accordingly. If you're targeting a younger demographic, you may want to offer more digital perks, like online courses or access to online events. On the other hand, an older demographic may be interested in in-person events or day activities. By understanding the specific needs and preferences of your target audience, you can create a membership system that resonates with them and increases their likelihood of engagement and retention, which have a direct impact on word-of-mouth marketing.
If you have access to research or data about your audience, make sure to use it! It will help you cater to your audience's needs and better understand their needs, values, and hobbies, which will translate into more new members.



3. Create clear descriptions of each membership level and included benefits
One of your main objectives is to make sure that potential members clearly understand the difference between different memberships. This is why creating clear and compelling descriptions of each membership level and its benefits is crucial for your membership organisation and its success.
With clear descriptions and information, potential members will be able to make well-informed decisions without having to reach out to your membership organisation, which takes more work off of your hands.
Make sure you also set a pricing structure for each level, taking into consideration different elements and the cost of providing each of the benefits, as well as their total value. You want to make sure that you offer an attractive bargain but you must also ensure that you're not giving too many things for too little money. Take a look at the following example to see how a golf course presents its different options.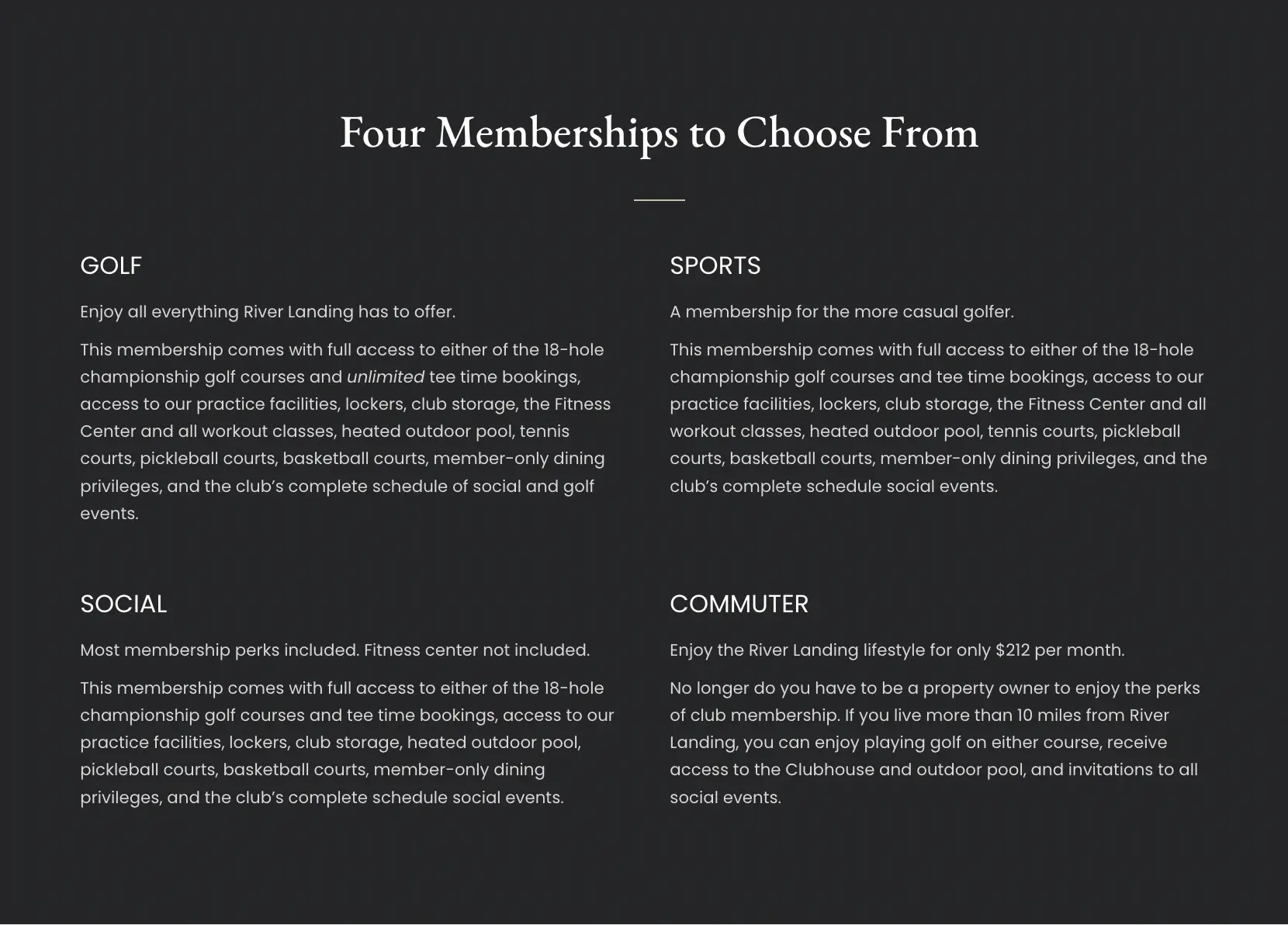 As you can see, this is a very simple description and summary of all the different membership options available at the golf course. However, it's important to remember that many users prefer visual content so it's a great idea to present your tiered membership system as an infographic or a banner, specifying the difference in benefits and price between the packages.
To make it easy for members to compare the different membership levels, it is important to provide a clear and easy-to-understand comparison chart. This can include pricing, benefits, and services offered at each level. Here's an example of a simple comparison prepared by a local gym.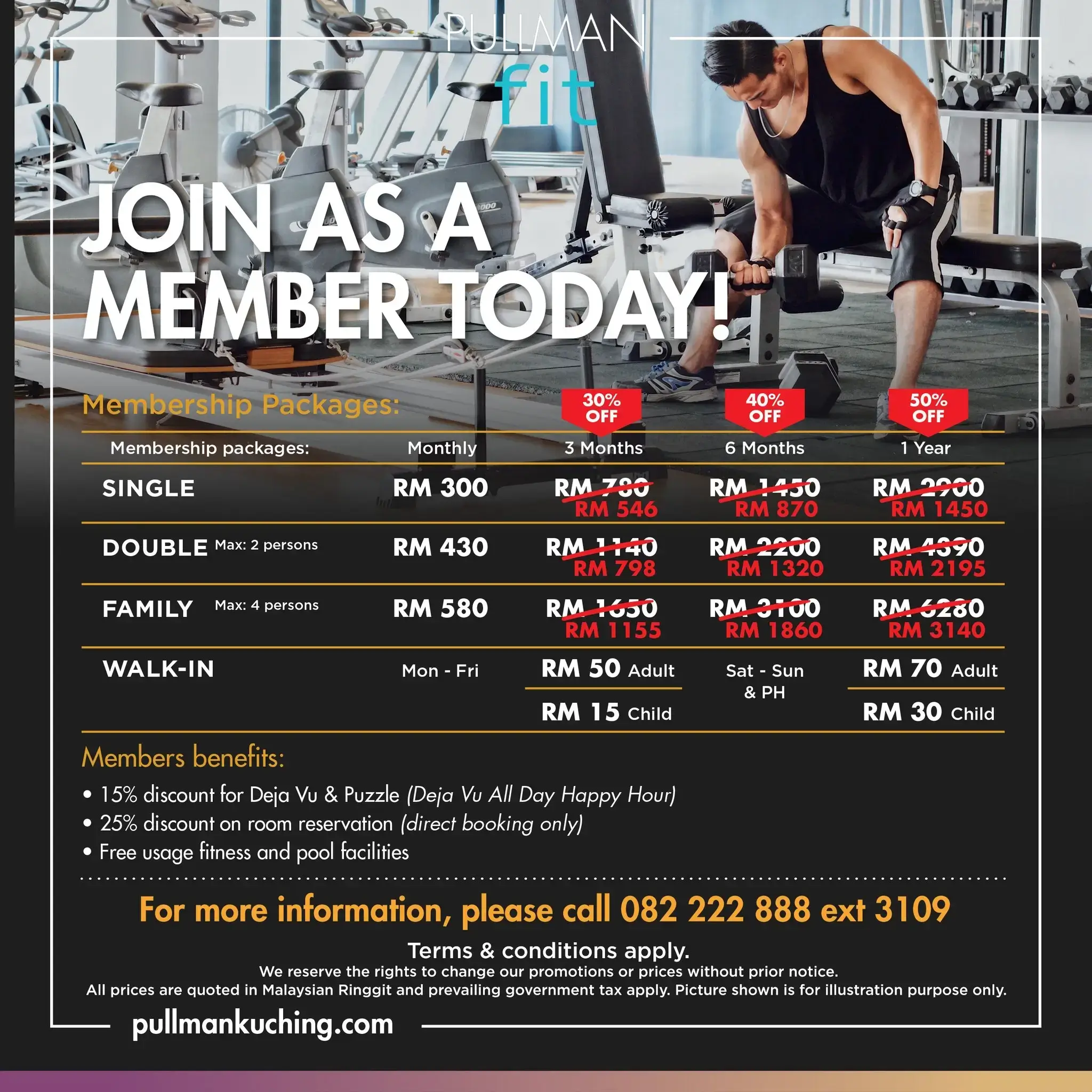 Note how they specify the savings on each different package and how they point out all the member benefits. If you opt for banners, leaflets, and other promotional materials, make sure to clearly state how interested members can contact you in case of further questions.
4. Keep your members and target audience informed about your membership options
Clear communication is crucial when it comes to implementing a new tiered membership system, or when adding or changing benefits. It's important to communicate all the changes to current and potential members so that everyone is up to date and no one feels left out.
When it comes to marketing and communications you can opt for any (or all) of the following:
Newsletter

: it's important to send out a personalised email to all of your current and potential members. You can use visuals to help you convey your message.

Social media

: there is a high chance that your members or those interested in becoming a member are also your social media followers. Make use of organic and sponsored posts and don't forget about Stories!

Website

: dedicate a section on your website for member news and make sure it's up to date with all the news, including your new tiered membership system.

Leaflets

: it's still common to visit a club or association before committing to a membership. It's important to have all of your promotional materials updated so that those interested can take leaflets or see posters with offers that are up to date.
Let's not forget that clear communication also means allowing your members to contact you without any problems. Create an easy process for your members to get in touch with your organisation, or to upgrade or downgrade their membership. Online forms, phone, and email support are the most popular.
A bonus idea would be to add bonuses and incentives for members who upgrade their membership level! It's a way to encourage more members to upgrade their membership and become more engaged with your organisation.
5. Regularly review and update the membership benefits
Reviewing and regularly updating the membership levels and benefits is crucial for staying relevant and competitive in the market. It's important to research and analyse the perks offered by other membership organisations so that you can stay unique and desirable. Add new benefits, for example, you could give access to new technologies or partnerships with other organisations. Removing benefits that are no longer in demand is also an important strategy that will help you keep your membership program fresh and interesting for existing members, which in return will increase their likelihood of renewing their membership and recommending it to others. By reviewing your packages you will also be able to adjust the pricing accordingly and make it more attractive to potential members.
6. Offer a trial period for those interested in your tiered membership system
Allow new members to experience the benefits of each membership package and make an informed decision about which level is right for them. Offering a trial period for new members can be an effective way of kickstarting long-term relationships with your new members. 3 and 7-day trials are the most popular when it comes to tiered membership systems.
Do you have more questions about creating tiered membership systems for your organisation, club, or gym? Get in touch with us! We can provide you with information about the best payment methods for your monthly subscription plans!